Youth
generation180
We exist to glorify God by helping students take the next step in their relationship with Christ.
UPCOMING EVENTS: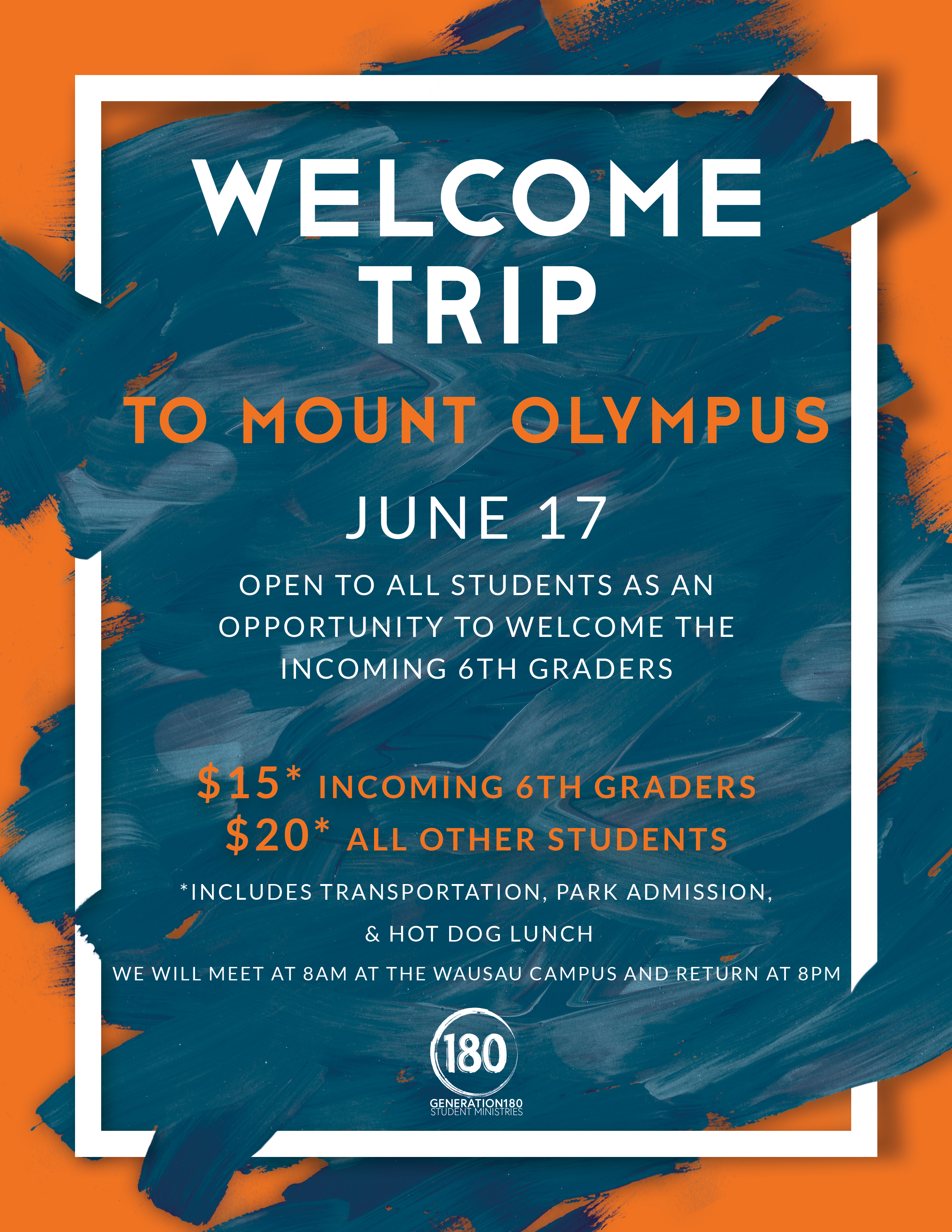 current calendar

Wednesday Night
Generation180| Midweek meets on Wednesday nights primarily at our Wausau Campus from 6-8pm. We also have a Life Group that meets from 6-7:30pm at our Weston Campus. Midweek gatherings take place from September through April. Each week includes plenty of hanging out, food, worship, prayer, Bible lesson, and a time for small groups that we call Life Groups.
Life Groups are a central part of G180 – each week students meet together with their Life Group and Life Group Leader to talk about life, the Bible lesson from G180, take time to pray for each other, and pour into each other in a meaningful way.
Our goal for G180|Midweek is to meet students where they are, encourage students in their faith, help students grow a Biblical-worldview, provide a safe place for students' spiritual and social growth, and allow students to find a ministry home.
Sunday School

Generation180|Sunday School meets at all three Highland Campuses!
Wausau: Sunday School is divided up into 4 different classes: grades 6-7 (held in room B12 and taught by Mike or Mr. Z!), grade 8 (held in room B11 and taught by Doug and Tarisa), grades 9-10 (held in room B2 and taught by Matt and Lee), and grades 11-12 (held in room B6 and taught by Jason and Stacey).
Weston: Sunday School is a combined middle and senior high school. This class is held in the Weston Youth Room and taught by Chris.
Marathon: Sunday School is a combined middle and senior high school. This class is held in the Marathon Youth Room and taught by Andy and Tammie.
Special Events
Generation180|Special Events are held in addition to regular Wednesday night Generation180 programming, there are also special events throughout the year. These special events are an excellent time to invite friends. Check for the most current G180 activities schedule at the Connection Point at each campus for upcoming times and locations for special events.
Adventure Trip
Generation180|Adventure Trips are an amazing time with the Lord, friends (new and old), and the beautiful outdoors! Activities range from kayaking, paddling, camping, hiking, high-ropes, white water rafting and more! These trips are often time partnered with a local ministry or camp and are a big favorite with students!
Mission Trip
Generation180|Mission Trips are roughly a week long. We stay in the United States for two consecutive years and go international every third year. These trips take us anywhere from urban to rural, from inner-city to international. Our trips are designed to stretch everyone on the team, meet the practical needs of the communities we serve, bring the Gospel to the world, and help shape the worldview of each team member.
Building Blocks of faith
Generation180|Building Blocks of Faith is held over the summer months. BBF is designed for students entering grade 6-8 and covers foundational elements of Bible doctrine and theology. Each session consists of an hour of education taught by a different Highland Pastor and an hour of games! BBF also enjoys a service project day and the never-disappointing Lake Day!
Servant Projects
Generation180|Servant Projects take on many shapes. We host 'Get Out! Nights' twice a year where students, alongside of their Life Group, serve somewhere in the community during a Wednesday night. G180 also participates in Work Weekends where we partner will a local camp to go and clean up, prep, and make ready their grounds in order for a summer of ministry to happen! G180 has random ways to serve to pop up throughout the year and we love taking advantage of these opposites to love God and love people by serving!
Fundraising
Generation180| Fundraising is an important part of the ministry. Our main fundraisers are manning the fair gate and cleaning up the fair grandstands. These fundraising activities are a GREAT way for youth and entire families to serve the community by helping out with different aspects of the Wisconsin Valley Fair (held a Marathon Park) while raising funds for youth events at the same time. Fair clean-up participants meet at the Marathon Park grandstands at 6:30 a.m. each day of the fair to have fun (yes it is possible to work and have fun!) cleaning the grandstand area. Breakfast is then served back at the church for those participating. It is a blast, and yes, each participant receives a FREE pass into the fair each day they serve!